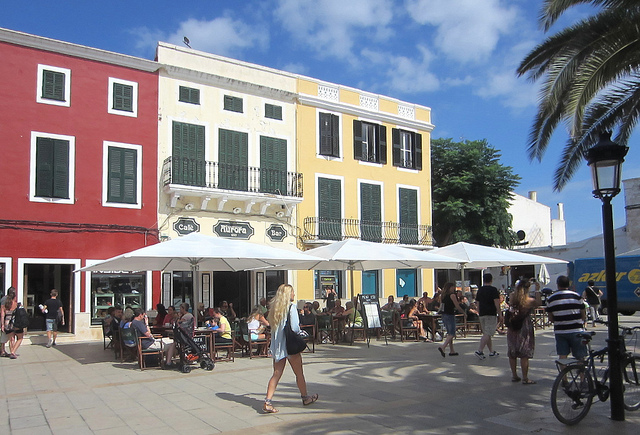 When it comes to eating out in Menorca, there are restaurants enough to suit every taste, budget and 'sensitive palate' (otherwise known as 'picky sod') under the sun. Whether you're after a cheap lunch to get your metabolism started after a night on the town, or a more substantial meal to impress friends, family or that special someone, a veritable smorgasbord of restaurants awaits you – and we're sure you won't mind the food-related pun on 'smorgasbord'.
Discover the best of them here on this idyllic Spanish island, and then book yourself a flight with Monarch Airways and get sampling the delightful eateries below.
Pan y Vino
Few nationalities put as much effort into their style, presentation and taste sensation as the French. It is an attitude Pan y Vino has made an almighty effort to imitate. Serving up Mediterranean cuisine – typically with a French twist – their menu is varied, exotic and above all, sumptuous. You can find Pan y Vino in Saint Lluis es.
El Castillo
A seafront bar/restaurant with superbly sweeping views all the way out to the horizon, this minx of a venue pulls no punches when it comes to serving up good quality cuisine for reasonable prices. If you are in Menorca for a special occasion, they openly invite you to tell them so that they can serve you up something particularly memorable. The menu features homemade tapas and what the owners describe as the 'best pizzas in Menorca'. So far, we haven't found reason to doubt this. El Castillo can be found in Avinguda del Port d'Addaia.
Smoix
The website, decor and presentation of Smoix can only be described as minimalist, but the taste of the meals is anything but. Big on flavour and bang on the money, it's a great up-market eatery if you're out to impress. Just be careful the person you're trying to wow doesn't walk off with the chef. The fig slices as a starter are particularly divine. Located on Carre Sant Isidre 33 in Ciutaedella de Menorca.
Bar Camacho
For authentic tapas, look no further than Bar Camacho. It's often said that to find the best places, you need to follow the locals and that is certainly true of this little eatery. Good food, friendly service and wholesome tapas dishes. Camacho is located at La Calle Victori 19 in Es Castell.
Buddha Lounge Cafe
Remember to light a candle to the Buddha before you sit down in this unique cafe, bar and restaurant mix. A raised seating area straddles the nearby street, giving you a great vantage point from which to watch the passers-by. Service is excellent and the sheer variety of drinks on offer will give even the most cultured connoisseur of beverages pause for thought. You can find the Buddha Lounge Cafe on Centro Comercial Son Bou.
Alaska
Tapas is the name of the main meal here at Alaska. Go straight for the appropriate menu and choose your favourite dishes. The red peppers stuffed with cod are particularly delectable. But be sure to save some space for dessert as the lemon sorbet served with locally sourced gin is absolutely excellent.